Lets Make a Quilt!
It's a very empowering thing to dye every piece of fabric you use in a quilt!
This is a 2 day, multi part class that will leave you with every
fabric you need
to make your Arashi inspired quilt!
Focal Prints, support prints, binding and backing!
What is Arashi?
Arashi Shibori, or pole wrap Shibori is an ancient Japanese
fabric dyeing method that we are going to put our own, modern spin on!
With todays tools and dyes, we can easily create these
beautiful patterns at home!
Day one will be spent pleating, twisting, stitching,
pushing and sliding our fabric on the poles!
You will soon understand why I call this class "Pole Dancing"

I will send you 3 yards of fabric, 3 high quality acrylic poles,
indigo colored fiber reactive dye, and all of the fixatives
and other tools necessary to learn 12 different ways
dye Arashi Shibori!
(*please note this is a synthetic indigo class)
Why Arashi?


Arashi -嵐
(literally translates to Storm)




As Arashi is dyed on a pole, long, narrow strips of fabric, bursting with organic
textures that resemble water, waves, lightning and trees.
Arashi creates movement and action, and the size makes them perfect sashing!

Day 1 will be mainly spent on fabric prep and folding techniques.
At the end of the day, we will have dye on 3 poles full of fabric for an overnight batch.
You will need a straight stitch sewing machine on day 1,
used at different times than the dye!

Day 2 is all about Stencils and Potato Dextrin Printmaking
I will send you off to my favorite - StencilGirl.com with a 15% coupon.
While I chose the mermaids and seashells, there are hundreds of
different stencils that will help you choose your quilts theme.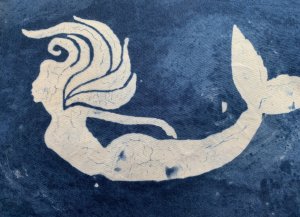 The soft crackle that happens with potato dextrin paste is just enough interest
to give a batik feel to our prints. Perfect for the pairing with Arashi.

This 2 class will demonstrate the variety you can achieve
with only one color of dye and some great tools and techniques!
It will also add to your overall skillset. Practicing with Potato Dextrin Printmaking will
prepare you for other upcoming classes!

After you have signed up for the class, an email will arrive in a few days with your coupon,
some stencil suggestions, and a student supply list. It will also have the link for the
Private Facebook Extra Support page, the Zoom Class Meeting Info
and all of the Super Secret Passwords that will get you into the DYEHARD clubhouse!

Your kit contains a Special Cindy's Scrap Box Stash bags full of
just the right size scraps for printmaking!
You will also get enough dye and potato paste,
and dye paint thickener for several days of play!

Your kit will come USPS and be delivered the week before the class.
It will have the all main fabric, dyes and fixatives and tools in it,
along with other fun stuff! The stencils are NOT included in your materials kit.
You will love StencilGirl! You can thank me later!